On Sunday 27th August we catered for the wedding of Neralie and Mark, that took place in a village called Alverdiscott, near Bideford in North Devon.
Neralie had moved over from Australia and wanted to have an English wedding, so they chose to marry in the small Devon village church where Mark grew up. Mark being a keen cyclist and introducing Neralie to this even rode their tandem bicycle to the church with his best man bringing up the rear! But there did have to be a little bit of Australia!!!
The venue that stole Neralie's heart was an old barn on Mark's family farm, this was transformed into an amazing rustic North Devon wedding venue and one that all the guests thought was fabulous. Neralie and Mark chose to have some drapes hung to break the wood up in the barn, this was done by Claremont Marquees and looked great. The tables were kept rustic with some small troughs of herbs, pots of homemade jams for the guests as wedding favours and small wood slices for place names and cards.
As the couple love their tandem bicycle, the wedding stationary and theme followed this through…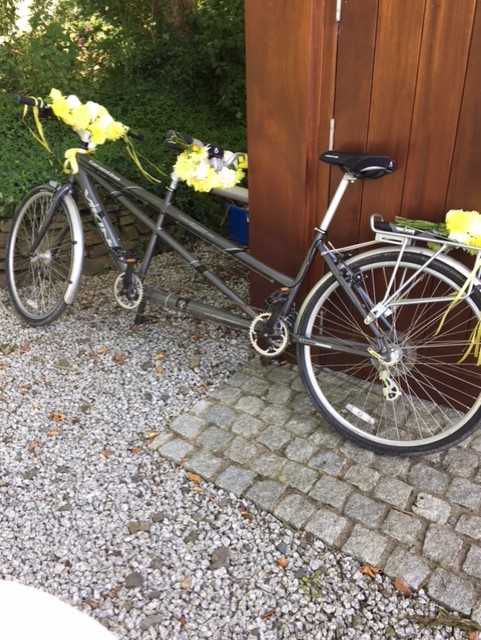 … the colours continued on the bride and groom ;0) bridesmaids, flowers and even the cake and all toned beautifully.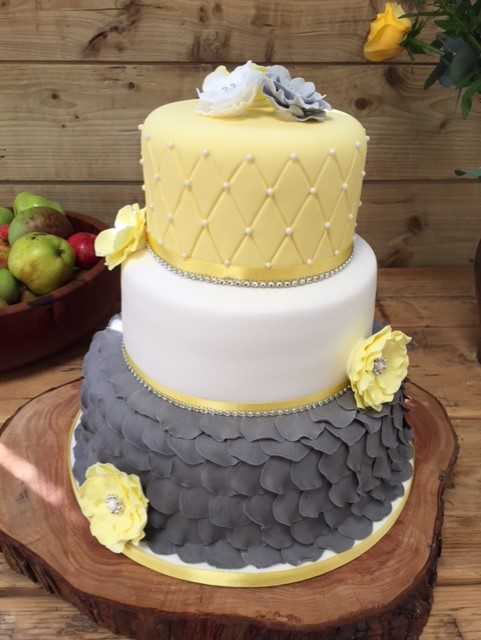 The day itself arrived and was lovely hot Devon sunshine, the guests returned after the ceremony to Mark's parents garden which was a festival of colours and had taken many hours of hard work.
Here we served a selection of homemade canapés that included our very version of fried chicken with a mustard mayonnaise dip, goats cheese, thyme and red onion tarts, miniature toad in the hole which was a BIG hit with the Australians, sundried tomato arancini with a spicy tomato dip, bacon and gruyere tarts and finally olive bread crostini with whipped goats cheese. The canapés were served with ice cold Prosecco and bottled beers that Mark and his friends had brewed on his stag party, all flowing well…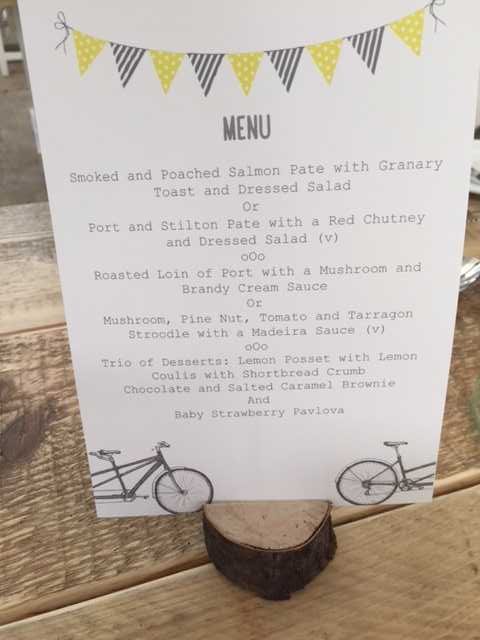 At 6pm the guests made their way to the barn were they were seated for the Wedding Breakfast. As Neralie had many friends and family travelling from Australia, the couple chose a menu that would be simple on the admin of menu chasing as they wanted all guests to eat the same with the exceptions of any guests that had dietary requirements. To begin with we served homemade smoked and poached salmon pate with a dressed salad and granary toasts, for the vegetarians and non fish eaters they each had Caroline's famous port and stilton pate. These were all accompanied by a selection of artisan breads and local North Devon butter.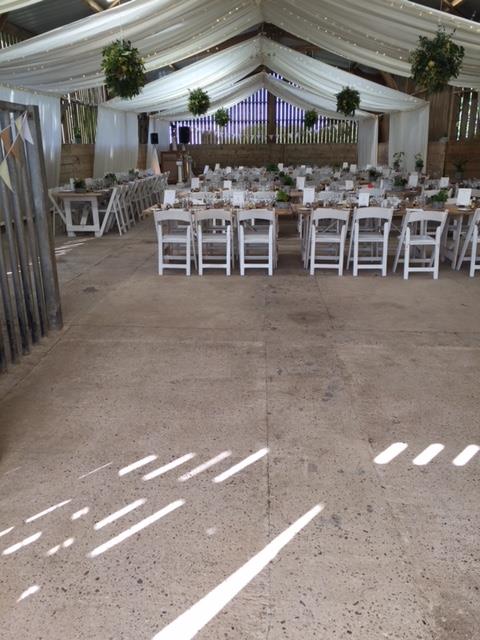 For the main course we served local roasted pork loins with a mushroom, cream and brandy sauce and for the vegetarians they ate a homemade filo strudel of mushroom, tomato, pine nut and tarragon, served with a Madeira sauce all with a selection of crispy roasted potatoes, fresh seasonal vegetables and lots and lots of Caroline's crackling that went down a treat with everyone! For any other guests with dietary requirements we served a variation of the main courses that suited them.
For dessert and again to save admin for Neralie and Mark we served trio's of some of our homemade delights, which included a strawberry pavlova, chocolate and salted caramel brownie and finally a lemon posset with a shortbread crumb and lemon curd all with Devon clotted cream that all wedding  caterers in this area should serve.
To finish we served fresh filter coffee or tea with homemade truffles and mints, before clearing and preparing the barn ready for the evening reception.
Neralie loves her nieces, nephews and all children which was obvious to see and especially for them she created their own tent complete with toys and LOTS of fun things to keep them entertained. We served them sausages and mash followed by ice cream which was a real hit!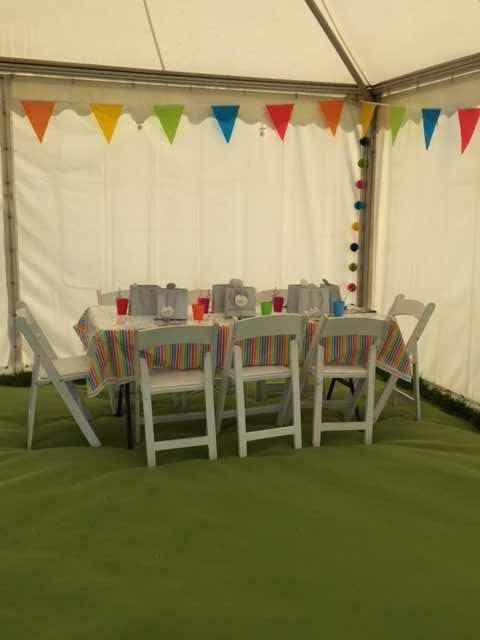 In the evening we ran the bar for Neralie and Mark, which had a perfect sited area within the old bull pen in the corner of the barn, certainly was a great talking point!!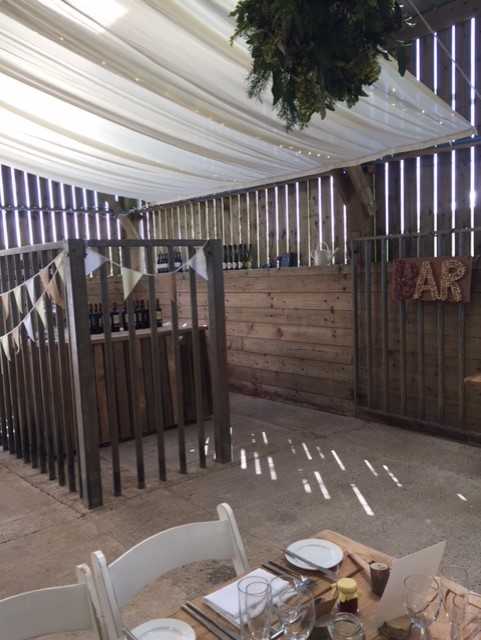 The newly married couple cut their wedding cake and we served this along with a selection of cheeses and Latvian bacon rolls which is a tradition from Mark's family. They then danced the night away with Inspired Party.
Another beautiful wedding that we loved being a part of, thank you and once again many congratulations Neralie and Mark.
If you are looking for event caterers in Devon, Cornwall or Somerset for parties, weddings, dinners, corporate events  please call us now on 01837 55841, we still have the odd available Saturday this year.