On Saturday 25th August, we were the chosen wedding caterers for the marriage of Rob and Michelle. The couple married at Dowland before heading back to their family farm for the marquee reception. The couple have known each other for years and have four beautiful children. The marquee was decorated with bright, colourful bunting and the tables were adorned with pretty flower arrangements in the centre.
We greeted guests on arrival with Pimms and lemonade, bottled beers and orange juice…
…along with plenty of canapes to prevent any rumbling tummys including smoked salmon, cream cheese and dill blinis with micro dill…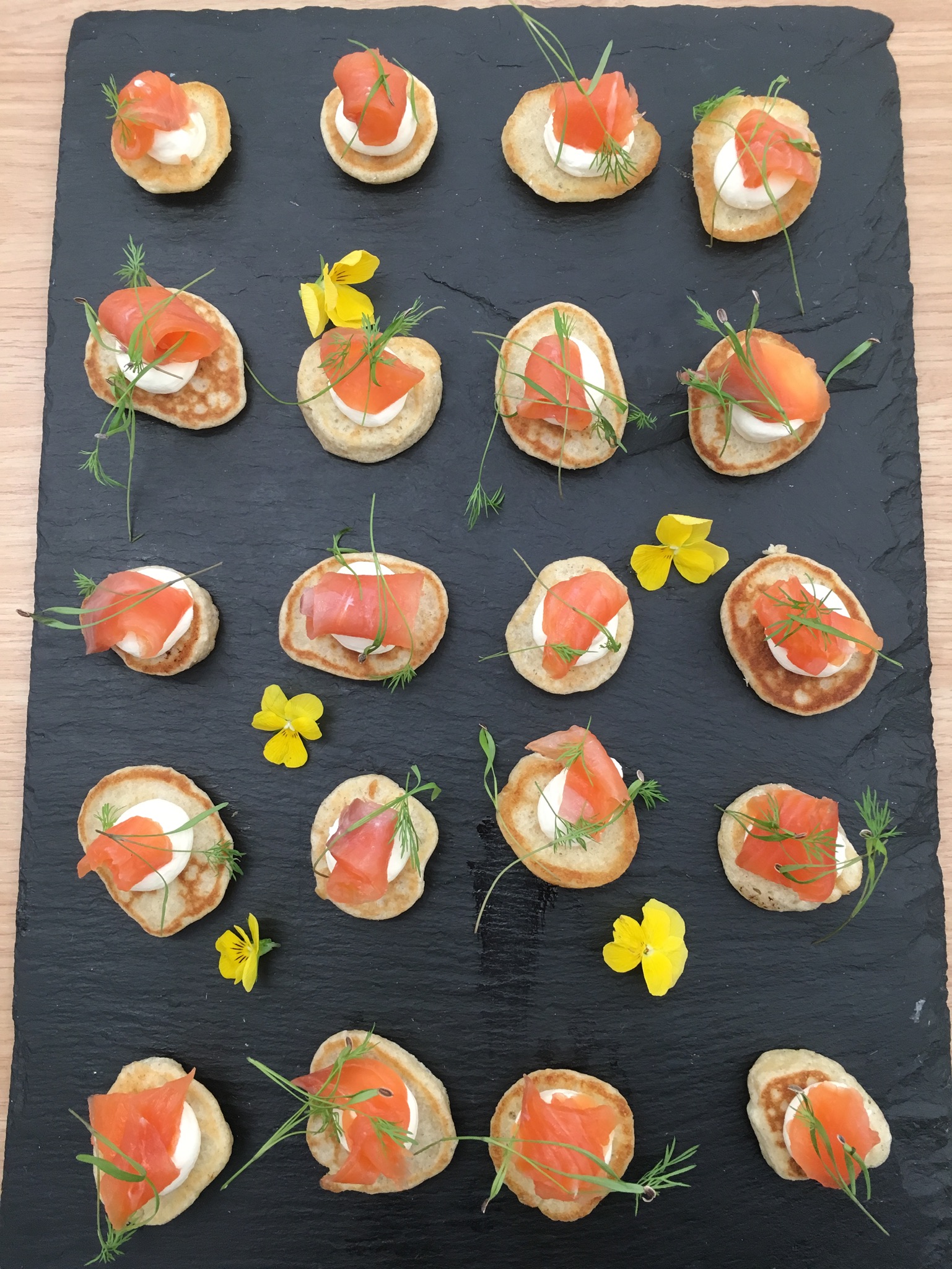 …olive bread crostini with sun dried tomato and whipped goats cheese; miniature butchers sausages with a honey and mustard glaze…
…and crispy chicken skewers with a mustard mayonnaise dip.
We even had a new member join the team for the day but he was a little quiet for our liking…
For the main course, we served West country beef sourced from our local butchers here in Okehampton, home cooked gammon ham with a honey glaze, whole salmon fillet with lemon and dill mayonnaise on platters to the table.
To accompany, we served dishes of new minted potatoes; mixed green salad with cherry tomatoes and cucumber with homemade wholegrain and olive oil dressing; classic creamy coleslaw; Mediterranean roasted vegetables with penne pasta along with assorted condiments, homemade chutney, baskets of artisan breads and Devon butter.
For the children, we served little picnic baskets including ham and cheese sandwiches, cocktail sausages, cocktail pasties, crisps, cherry tomatoes, cucumber and carrot sticks and homemade chocolate brownie.
For dessert, our sharing platters of baby raspberry pavlova, lemon cheesecake, chocolate brownie and creme brulee along with bowls of Devon clotted cream, were received with lots of 'ooohs' and 'wows'.
As the night drew closer, Rob and Michelle cut their wedding cake before we kicked the evening off with a hog roast. Piping hot, roast leg of pork, sourced from our local butchers here in Okehampton filled soft bread rolls topped with homemade sage & onion stuffing and apple sauce.
Guests could also help themselves to cheese and biscuits or an assortment of cakes made by family adding a yummy, personal touch. Throughout the afternoon and evening, we manned the bar on behalf of the couple with a big smile.
Thank you Michelle and Rob for letting us be a part of your special day and many congratulations once again. We also had the pleasure of working with Emily Fleur Photography who captured some amazing photographs, as always.
Are you interested hearing more about what we can offer for your wedding, corporate function or event? Please do give us a call on 01837 55841, we would love to hear from you.