On Saturday 3rd June, we were the chosen caterers for the wedding of Harriette and Simon at Maramchurch, near Bude in Cornwall. After marrying at Maramchurch church, the happy couple and their guests made their way to Harrie's family's farm. Guests were treated to a tractor and trailer taxi service from the car park, through the fields in the glorious summer sunshine, where they were safely dropped at the end of a meandering cut-grass pathway.
The pathway was lined with hanging cans of beautiful flowers and candles, guiding the wedding party to the stunning tipis.
The couple did a fantastic job of decorating the tipi's to give a rustic, festival atmosphere.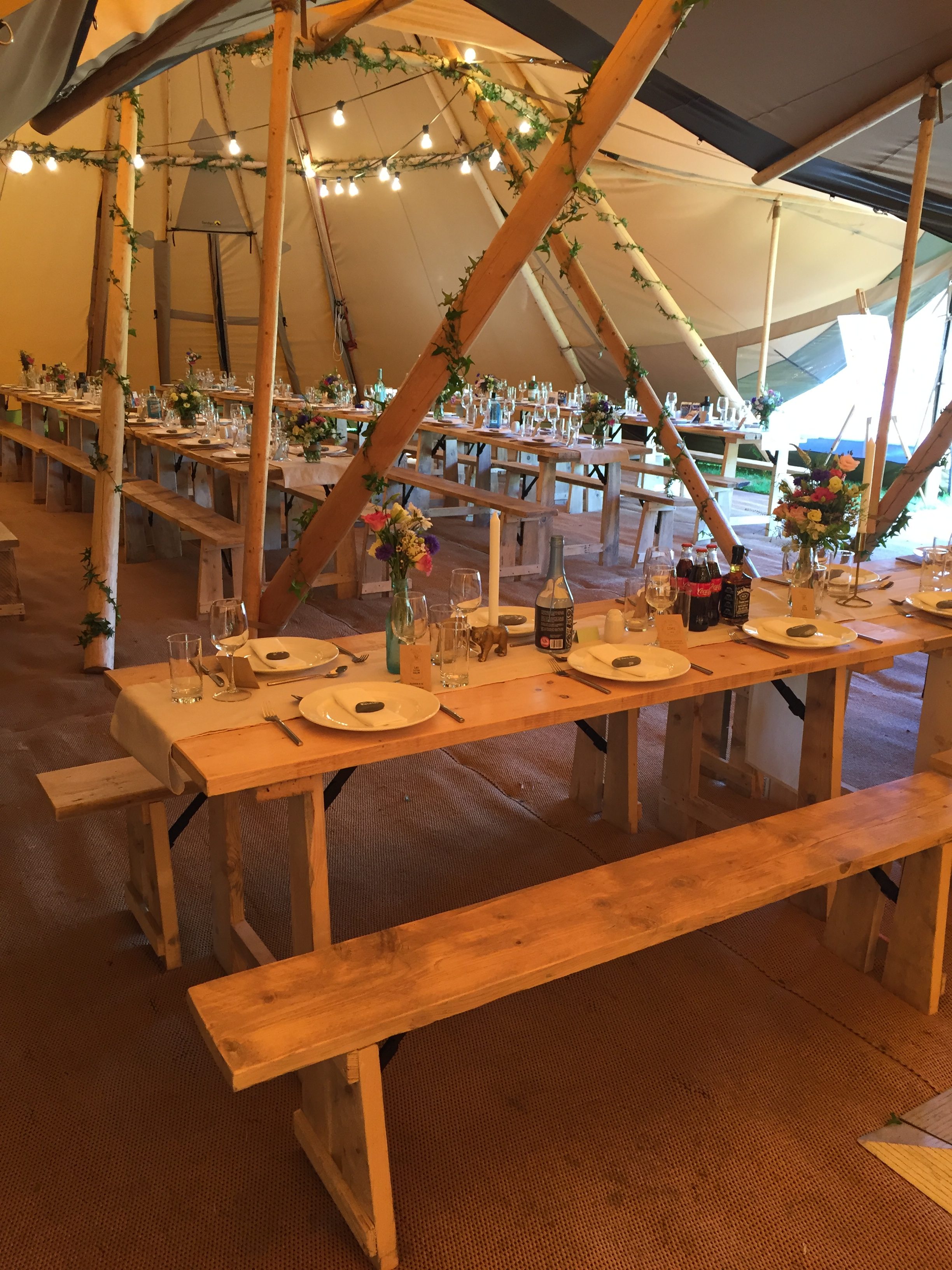 Upon arrival, we served glasses of prosecco garnished with seasonal local strawberries from the Tamar Valley, bottled beers and orange juice, whilst the guests were entertained by the The Bencoollen Wreckers who sang a selection of songs. After a quiet photo opportunity, the bride and groom appeared in Harrie's Dad's campervan to join their friends and family, for homemade scones topped with strawberry jam and clotted cream.
Following the father of the bride's speech, the guests were asked to take their seats ready for the wedding breakfast to be served. Each table was decorated with simple jars of pretty flowers and named after the couple's favourite brands of gin, each table complete with the gin itself!
For the main course, we served barbecue style food to the tables including platters of butchers pork sausages; peppered rump steaks sourced from our local butchers in Okehampton; free range Cajun chicken drumsticks sourced from Creedy Carver in Crediton; vegetable kebabs with honey and soy dressing…
…and sweet potato burgers for the vegetarians. Guests could then help themselves from bowls of mixed green leaf salad with homemade wholegrain and olive oil dressing; curried coleslaw with sultanas and almonds; cous cous, roasted peppers, red onions, sun dried tomatoes, feta and fresh herbs; mini new potato salad with fresh herb mayonnaise…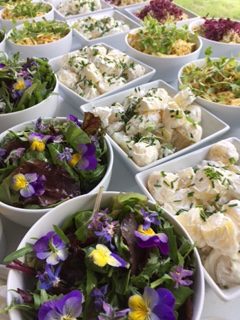 …assorted condiments and baskets of homemade artisan breads and Devon butter.
Our famous sharing platters, that continue to grow in popularity, then made another appearance. This time they included baby raspberry pavlovas, chocolate brownies, classic crème brulee pots and zesty lime cheesecake, all served with bowls of Cornish clotted cream. To finish we served fresh filter coffee and English breakfast tea along with homemade chocolate truffles and mints.
In the evening, The Bourbon Street Band had the dance floor bursting from their very first set, right the way through into the early hours of the morning. Those that wanted to enjoy a slightly more relaxed evening, gathered around the campfire on straw bales to sing songs and toast marshmallows.
Congratulations, once again, Harrie and Simon, and thank you for letting us be a part of your special day.
Dates for 2018 are filling up fast, so please do get in touch to secure your date for your wedding, corporate reception or event to avoid disappointment.