On Saturday 1st September, we were the chosen wedding caterers for the marriage of Chloe and William. The couple married at Beaford Church before returning to the family farm for the reception in a marquee.
The marquee was decorated to reflect Chloe's passion for horses with stirrups dressed with flowers and lace hanging from the ceiling.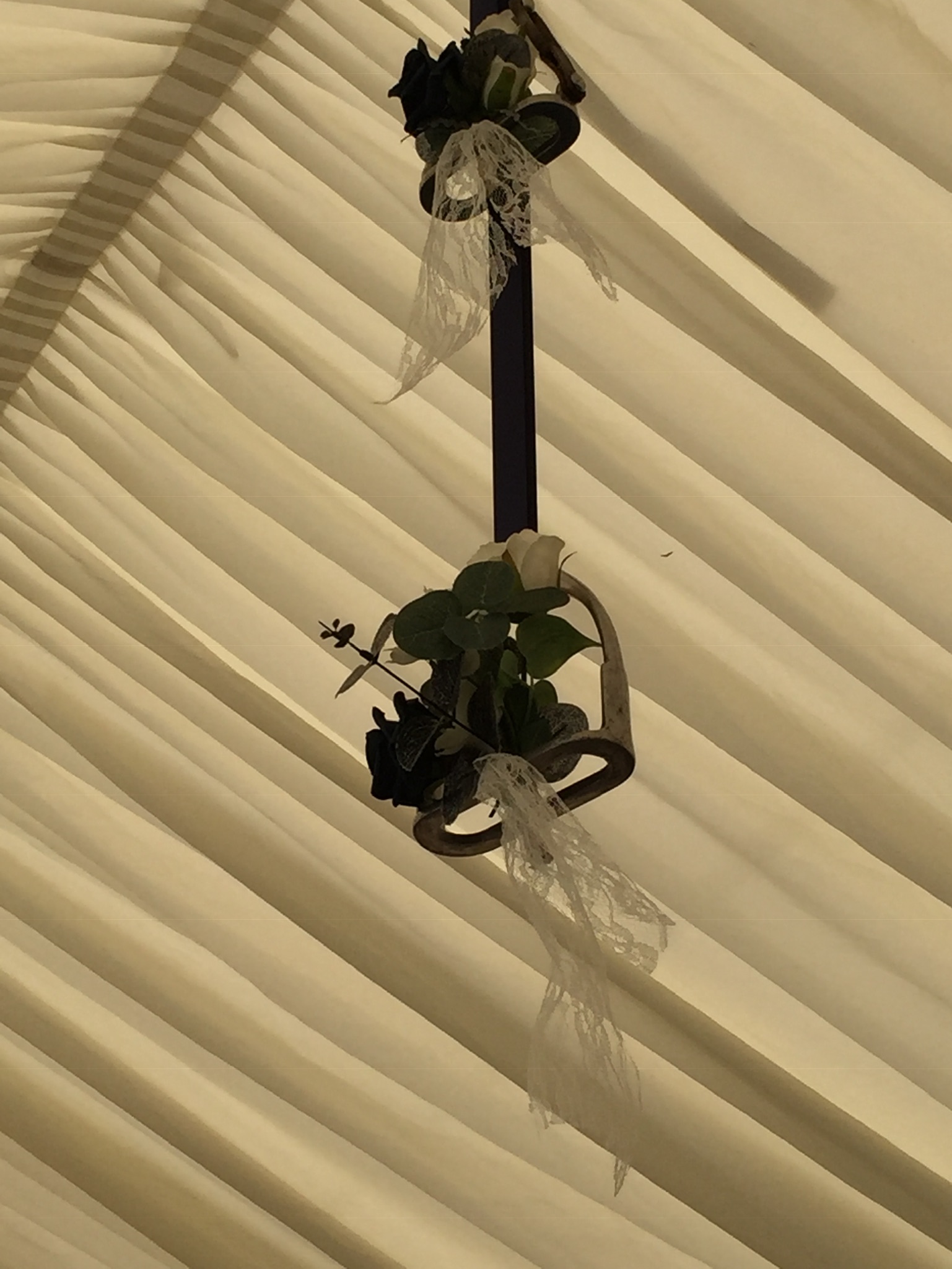 As the guests arrived, we greeted them with glasses of Pimm's and lemonade garnished with fresh fruit, Prosecco glasses topped with a strawberry, bottled beers and Appletiser as a soft option. The guests could also pimp their prosecco with a variety of flavoured gins in horse box.
As the guests mingled outside in the sunshine amongst the beautiful flowers arranged in a variety of containers by some clever members of the family, we served a selection of cold and warm canapes. These included mini assorted poppadoms topped with ginger and lime mayonaise chicken and micro coriander…
…filo basket filled with fresh crab cocktail…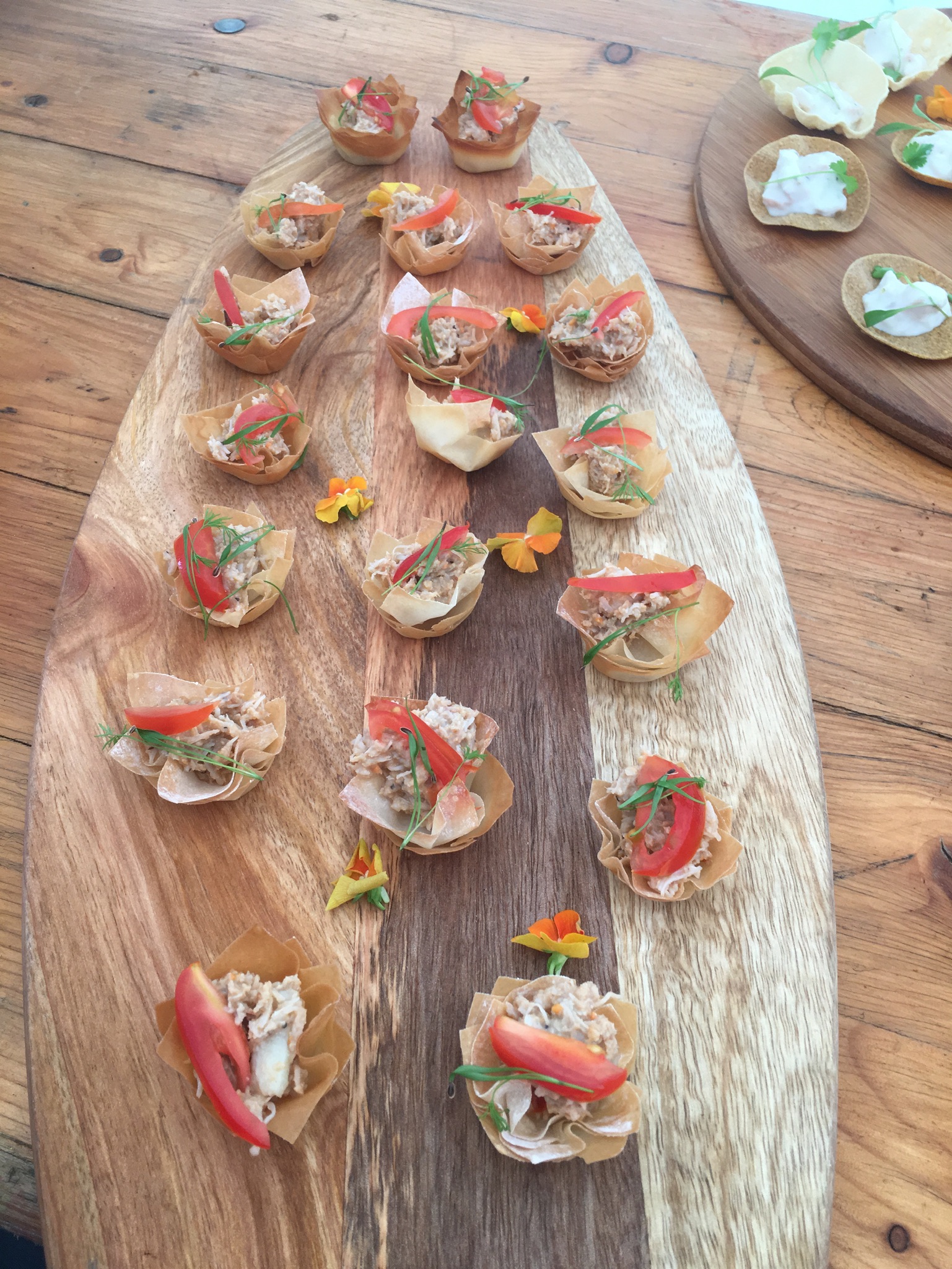 …goats cheese, thyme and red onion tartlets…
…mini butchers sausages sourced from our local butchers in Okehampton with a honey & wholegrain mustard glaze…
…crispy chicken skewer with mustard mayonnaise dip…
…and spiced vegetable samosas.
The children were also kept entertained with a white bouncy castle in fitting with the marquee.
For the wedding breakfast, the family wanted to use their own beef and pork. We served platters of roasted joints of beef and pork along with dishes of homemade Yorkshire puddings, sage & onion stuffing, crispy roast potatoes and carrots, broccoli and green beans to the table for guests to help themselves.
For dessert, we served a homemade trio of desserts including baby raspberry pavlova, lemon cheesecake with lemon confit and classic creme brulee along with bowls of Devon clotted cream.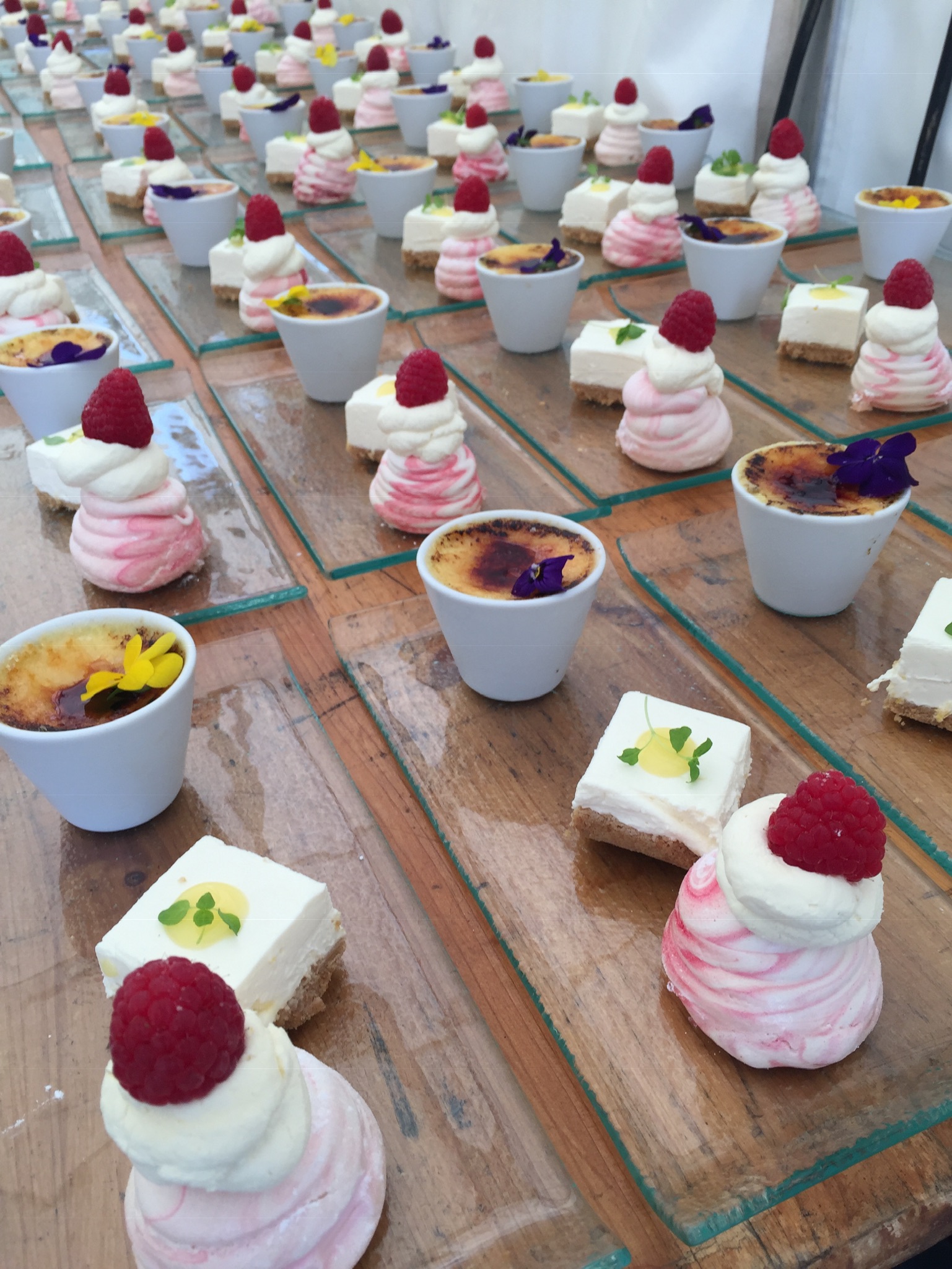 To follow, we poured steaming cups of freshly brewed English breakfast tea and fresh filter coffee along with a glass of bubbly ready for speeches.
In the evening, the couple began by cutting the wedding cake, made by the bride.
We then served gourmet burgers in a brioche bread roll with lettuce, tomato and local butchers sausages in a soft finger roll with buttery onions with a selection of relish and sauces. This provided a much needed refuel for those showing off their dance moves with the live band.
Guests could also help themselves to a selection of Westcountry cheeses including Cornish brie, Devon blue, tickler mature cheddar and Quickes smoked with assorted wafers, celery and grapes and our own homemade chutney and Devon butter.
Thank you Chloe and William for letting us be a part of your special day, and many congratulations once again.
If you would like us to cater for your special day, whether that be a wedding, party or corporate event, please do give us a call on 01837 55481 we would love to talk to you.