On Saturday 2nd September we were asked to be the wedding caterers for Victoria and Jules that chose to have a humanist ceremony on the farm where Jules's family lived near Woodbury in Devon, followed by a reception in a World Inspired Tipi.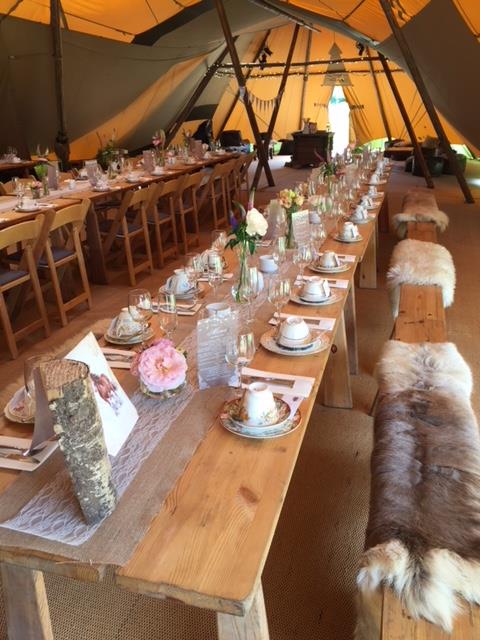 It was a pleasure to work with Victoria as she had all details of her day organised. We arrived on the Friday morning to set the kitchen area and tipi up ready for the following day. The tipi looked amazing with benches for the younger guests with animal throws and chairs for the older guests. Jules had also made an outdoor bar area that was stocked ready.
The table plan looked amazing decorated with farm animals and lots of greenery…
…the animals then doubled up on the tables…
Victoria and Jules chose to have an afternoon tea after their ceremony, which included finger sandwiches, individual quiches, large smoked salmon blinis followed by a selection of cakes. The high light being individual Victoria Sandwiches!
We set the tipi with vintage china for each guest that included a tea cup, saucer and tea plate. The tipis did look amazing, especially with the beautiful flowers, all set ready and the guests had strong instructions not too look! Have to say that this worked brilliantly.
The day itself arrived and was glorious sunshine, the guests began to take their seats at the ceremony area where Victoria and Jules married, with a string quartet playing in the background. After the ceremony the newly married couple led their guests to the tipis where we were ready with bottled beers and Pimms.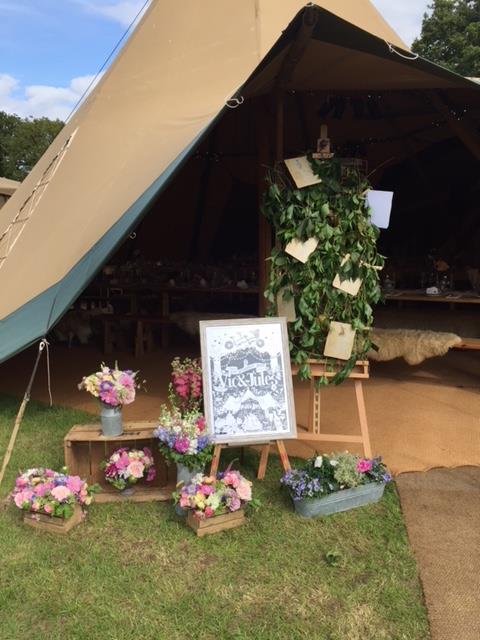 Victoria wanted some light bites to stave the hunger before the afternoon tea, we served mozzarella, tomato and basil skewers and our popular homemade sun dried tomato arancini with a spicy tomato dip.
At 4pm our front of house manager Jo called the guests to take their seats for the afternoon tea to be served. For this the guests enjoyed a selection of freshly cut sandwiches, homemade quiches and smoked salmon blinis.
To follow we served homemade cakes which included rich chocolate brownies, scones with jam and cream, glazed lemon tartlets and Victoria Sandwiches, especially for Victoria.
After the speeches we cleared the tables ready for the evening party and for the band to take the dance floor. We served drinks from the fab 'Jaspers' and in the band break we served a hog roast along with some homemade salads, which all went down a treat, along with Victoria and Jules's cheese wedding cake.
We left the celebrations at 11pm, a sign was put on the bar that said 'help yourself' we tidied and cleaned up and headed back to our kitchen.
Once again many congratulations Victoria and Jules and thank you for choosing us to be your wedding caterers.
If you are looking for wedding caterers, corporate catering, or any other event that requires catering in Devon, Cornwall or Somerset please do not hesitate to contact us on 01837 55841.