On Saturday 27th May, we had the pleasure of catering for Gemma and Thomas in a marquee, on their family farm in Beaford, near Winkleigh in Devon.
Gemma and her team of helpers made the marquee look really pretty, including flowers that featured in the London 2012 Olympic horse jumping. Horseshoes and miniature bird cages filled with fresh flowers, formed table centre pieces, along with a personalized pen for each guest and an activity pack to keep the children entertained. In keeping with the farm surroundings, the table names were lots of different cattle breeds.
Despite the stormy Devon conditions the night prior, the sun shone for the arrival of the guests following the wedding ceremony at Beaford church. We greeted the guests with a glass of garnished pimms and lemonade, gin and tonic or elderflower presse for the drivers and children.
Whilst the drinks continued to flow, we served a variety of warm and cold homemade canapes, including chicken liver pate and homemade Mediterranean chutney on crostini; smoked salmon, cream cheese and dill blinis with micro dill…
…goats cheese, thyme and red onion tartlets; savoury choux bun with creamy wild mushrooms; chicken satay with peanut dipping sauce; and mini 'toad in the hole' with sweet caramelised red onions.
The guests were then called in to take their seats, ready to enjoy the wedding breakfast that we catered. For main course, we served a buffet including the family's own beef; home cooked gammon ham with a honey glaze from our butcher in Okehampton; fresh whole salmon fillet from Plymouth with lemon and dill mayonnaise…
…the family's own coronation chicken; provencal vegetable tart topped with mozzarella, for the vegetarians; minted new potatoes; mixed green leaf salad with homemade wholegrain mustard and olive oil dressing; classic creamy coleslaw; spicy saffron rice salad with pineapple, sultanas and peppers; roasted vegetable and spelt salad on rocket and balsamic drizzle; crunchy cucumber, tomato and spring onion salad with chilli and lime dressing; homemade chutneys; assorted condiments; along with a basket of artisan breads and Devon butter for each table.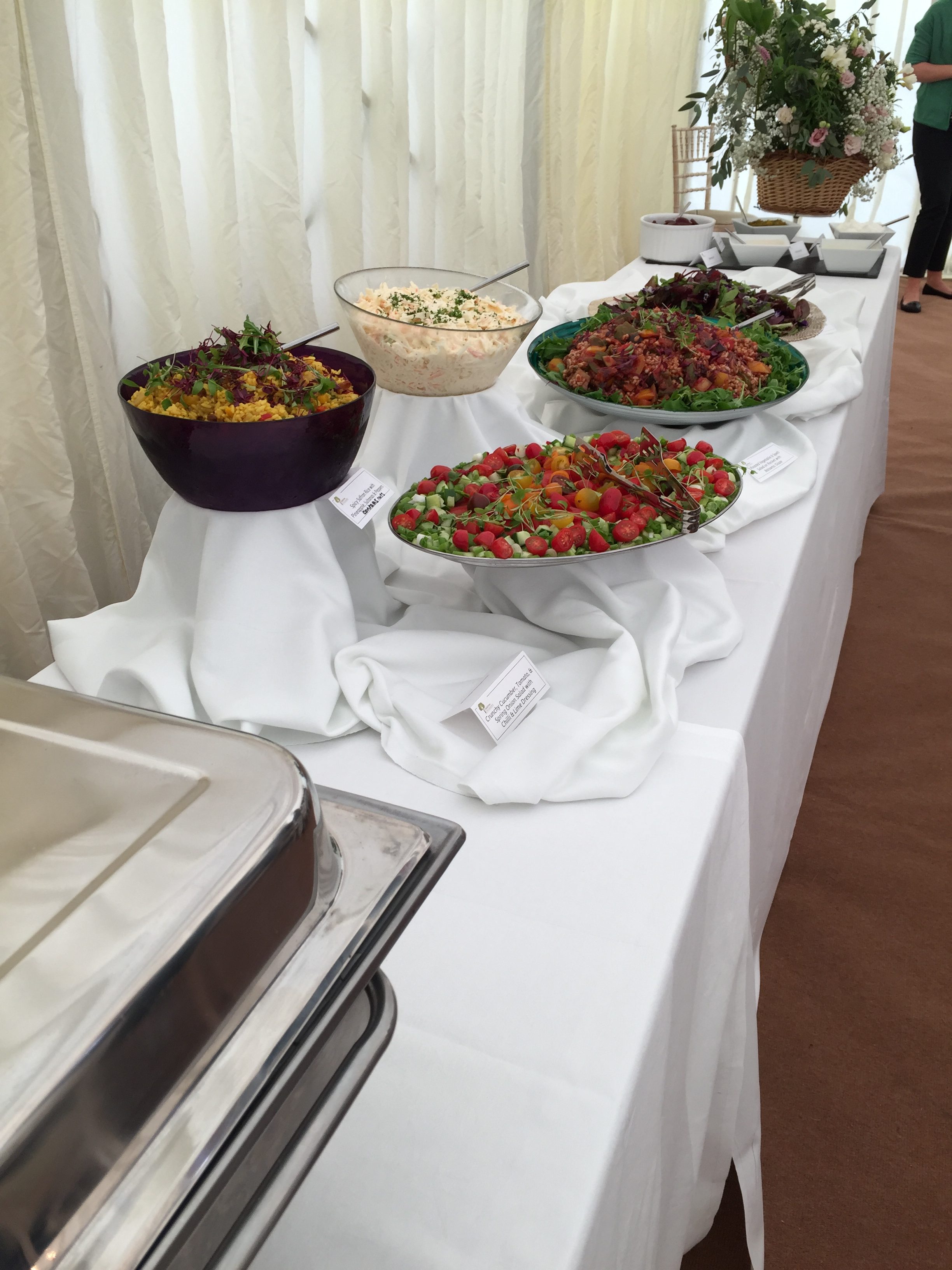 Following this, we served our famous dessert sharing platters including baby raspberry pink pavlovas, light chocolate truffle torte, miniature crème brulee and lemon tart, along with bowls of Devon clotted cream for guests to help themselves. These as always were a massive hit with all the wedding guests.
To finish, we poured fresh filter coffee and freshly brewed tea, along with plates of homemade chocolate truffle tortes and mints. Gemma requested that we placed a couple bottles of bubbly on each table so that guests could all pop them open at the same time, producing a fantastic effect.
In the evening, following the cutting of the cake and the first dance, our freshly batter cod and hand cut chips, once again proved extremely popular. We also served warm miniature meat and potato, and cheese and onion pasties; our Westcountry cheese platter with biscuits, Devon butter, celery, grapes and homemade chutney…
…cupcakes made by bridesmaid Chloe and the wedding cake.
Congratulations Gemma and Thomas and thank you for letting us be a part of your special day.
Dates for 2018 are filling up fast, so please get in touch to secure your date for your wedding, event or corporate event.