On Saturday the 7th of July we were the chosen wedding caterers for Sinead and Mark that married at the stunning Launcells Barton, near Bude on the Devon/ Cornwall border.
As always we went to set up on the Friday, to lay all the tables and buffet for Sinead who was there with a large team of friends and family to help with the preparations for the day. Mark had made a large number of items himself from wood, which included table names, table plan board…
…photo frame, board to hang photos on to name a few and they all looked great with the slight beach theme running through them.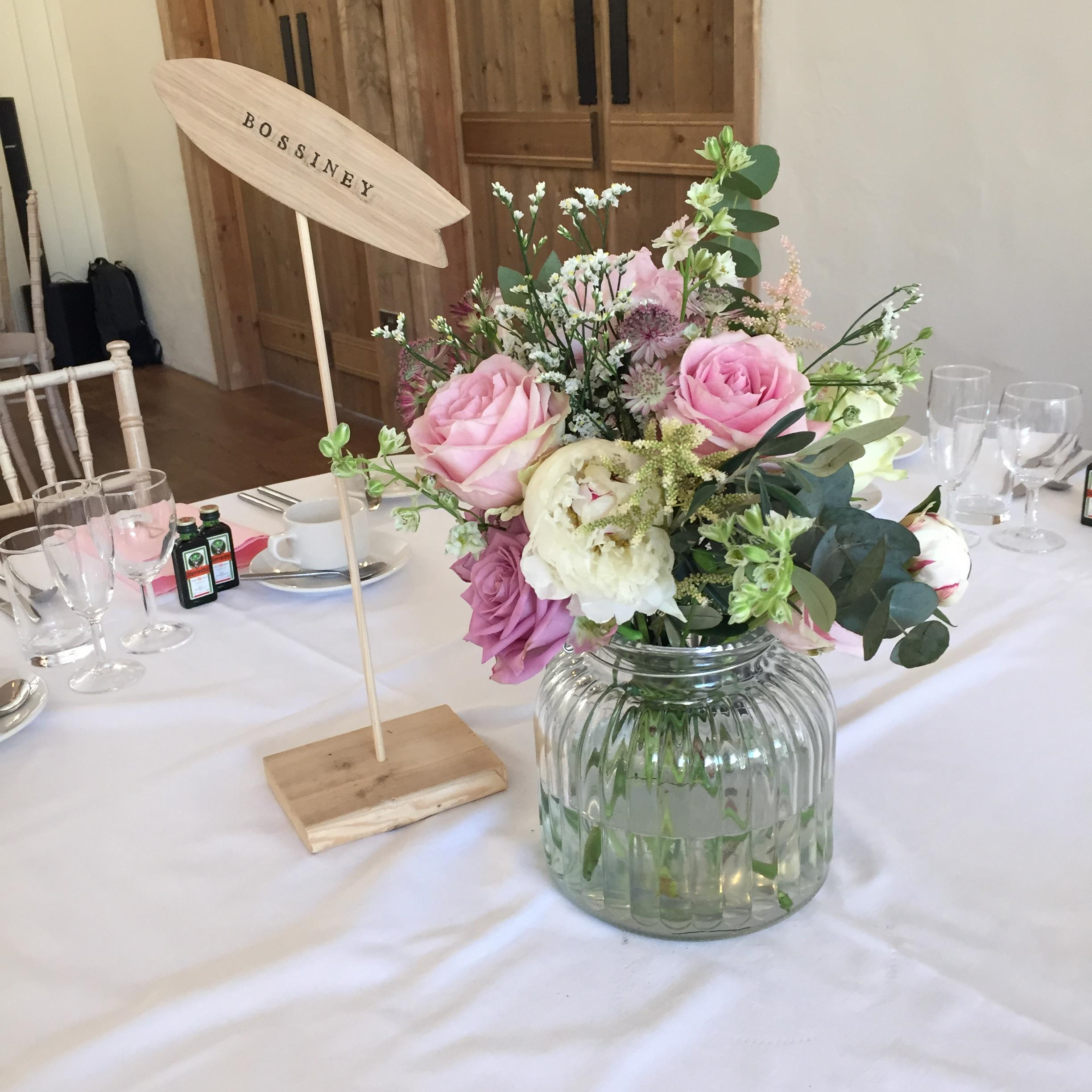 The couple had jagermeister as their favour which was a nod to their skiing holidays, these were even made with their names on, how cool?
The weather was so glorious the couple could marry outside in the walled garden with all their friends and family looking on. Their guests followed this by enjoying drinks in the stunning grounds of this wedding venue.
At 3pm the guests were called in to the main barn for the wedding breakfast. Sinead and Mark really wanted an informal buffet with locally sourced beef and pork cooked on the hog roaster along with three homemade choices of vegetable tarts, lots of fresh salads and sausages for the children. This was a buffet full of choices for everyone.
Desserts, so that their guests would not have to stand again we served our homemade sharing platters of desserts which included creme brulee, raspberry pavlova, chocolate brownie and vanilla cheesecake. We LOVE serving these as the guests always get excited by them as there is a treat for all.
After the speeches we helped to turn the room around  ready for Sinead's mum's band to set up.  The wedding cake was cut which looked great and was made by a relation and then…
…from their very first note the dance floor was full and WOW what a party they had! During the evening we served some warm pasties along with cheese boards.The atmosphere was quite amazing and when Sinead sang herself there was not one guest left sitting, what a fantastic party!
This photo just shows how much love there is for this great couple!
Thank you both for letting us share in your day and for your lovely card, that brings back find memories. Many congratulations once again and we wish you all the very best for your future together.
If you would like to speak with us about any catering within Devon and Cornwall, whether a wedding, party, anniversary, charity ball, a special event or any other occasion please call us now on 01837 55841, we look forward to speaking to you.