With the summer wedding season and financial year end Corporate events upon us, we thought that we would put together a step by step guide to the perfect table plan.
As event caterers we cannot stress enough the importance of a good table plan, to ensure that yourselves and your guests receive a seamless and efficient service.
Following we have listed steps and detailed exactly how we, as your wedding and event caterer like to receive this information to make all our lives much easier from the start.
1. Menu in your invitations.
When your invitations are sent out, whether for a corporate dinner or a wedding, insert a copy of the menu into each of them. You will need to send a separate menu for each guest with an area for them to write their name or have a menu printed with boxes for the guests to tick beside their food choices so you can easily tell who is having each dish. Also ask if any guests have any special dietary requirements.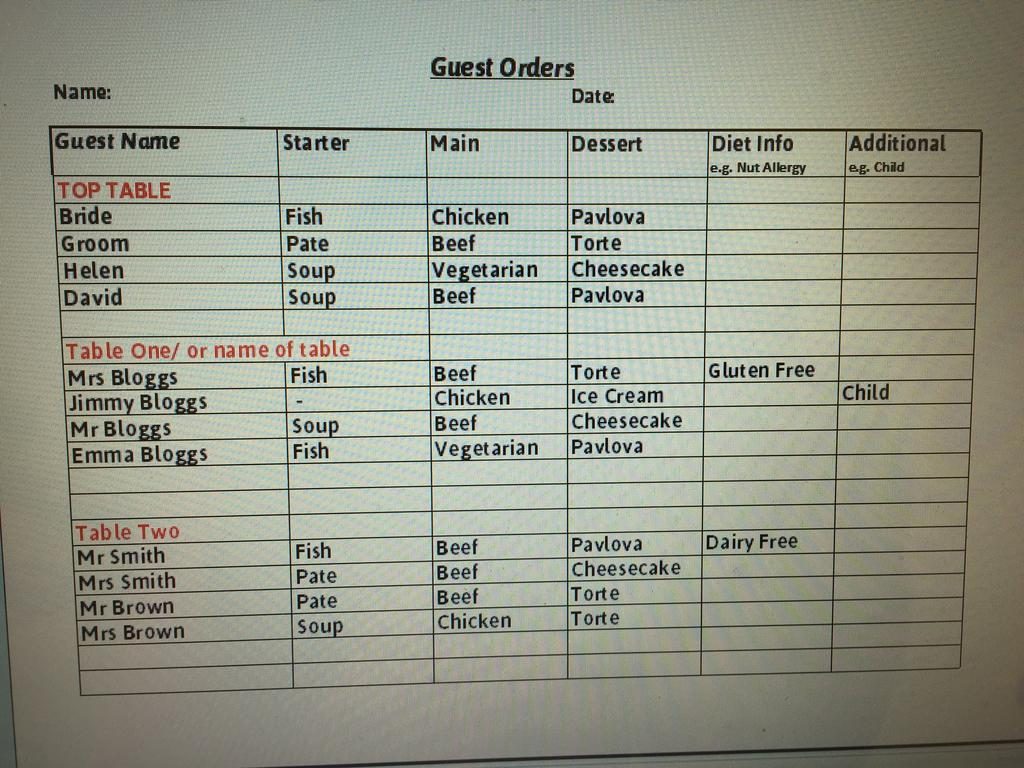 2. Receiving RSVPs
When the RSVPs come back to you, make a list of each guest's name and their menu choices, if you can use an excel spreadsheet this can save time.
The list can be really simple. For example…
Janet Bloggs – Fish Beef Torte
David Bloggs – Soup Beef Cheesecake
Emma Bloggs – Fish Vegetarian Pavlova
…and so on for the remainder of your guests.
If you have a guest with a special dietary requirement, simply write this after their choices. See the diagram above, but remove the table names/numbers to begin with.
3. Send us an email with your guests choices
Six weeks prior to your event we ask for a list of how many of each dish you require. A simple email that says 64 roast beef, 27 chicken supreme (including 1 gluten free) and 4 vegetarians is perfect. The same would apply for starter and desserts, along with any additional dietary requirements and children's meals. It is also important to remember the dietary requirements of any evening guests – this can just be 51 additional evening guests (including 2 gluten free and 2 vegans). This allows us to ensure that all of your guests are happy and catered for.
4. Create a place card for each guest
Each guest attending your event or wedding will require a place card on the day so they know where they are sitting and to tell us what they are eating.
This can be put in a theme to match your wedding or simply a tent-style card with the guests name on and in the corner, or on the back, a code of their menu choices. We can give you a code to our menu if that helps, but the general rule is the easier the better! So we would put B for beef, C for chicken, V for vegetarian and moving on to desserts L for lemon cheesecake, C for chocolate torte, P for Pavlova and so on…
Alternatively, if you do not want letters at the bottom of the place card, how about little pictures, such as a little chicken for a chicken breast, a fish for the fish option or a cow as seen below, for the beef option.
5. Finally – Create a Table Plan!
The last thing we require, but ultimately the most important, is a table plan with the guests names and their choices. From this list we can write our service plans, so that on the day we can serve each table with the dishes they have ordered. This will ensure that every meal is hot and served in a professional and efficient manner.
At the top of this blog we have put a picture of a perfect table plan that we use, here we can clearly see the guests name, their food choices, and any dietary requirements, along with the table name or number they are sitting on. You can put this in order of how your guests will be sitting on the day and we can follow this on.
So, to simplify why not start off with the original list at the top of this blog? This can just be a list format of all your guests as they reply. Once you know your table plan this can then form a new list in table plan order.
We hope this blog has helped with any questions you may have on tables plans for any corporate catering or wedding catering. We are always available to help. If you have any questions, or would like us to send you a formatted excel spreadsheet to enter your guests names in, please do not hesitate to ask.