Paperwork is an essential part of the wedding planning process from supplier enquiries, to guest lists, to the dreaded table plan! Often proving one of the most stressful aspects even for the most organised of couples.
If you are getting married in the near future, keep reading for all our hints and tips…
1.Supplier Enquiries
From the moment you start sending out those initial enquiries, the paper trail begins (albeit, nowadays a virtual trail). Emails are vital where critical information is shared between you and your supplier. It is therefore, essential that you keep them safe. In order to keep everything in one place and prevent important emails becoming lost in a sea of marketing, we recommend setting up a separate email account for your wedding or direct all wedding emails to a particular folder. Now this only works if you check the account/folder on a regular basis, but it can help to keep everything in one place. When you're lying in bed wondering what canapes you chose again, you know exactly where to find the email that tells you.
2. Invitations
Invitations are the ideal opportunity to get creative and set the theme for your wedding but bear in mind the practicalities. Where pre-ordering for food choices is concerned, try not to over complicate it but do think through the information you require. If you send an invite to a family of four but you simply give a box asking for the number of guests who want beef, chicken or the vegetarian option, how will you know which guest chose which option? This creates a nightmare further down the line when you need to write guest's food choices on their place cards.
The below invitation included a great way of getting choices providing the perfect level of detail.
Remember to ask guests to inform you of any special dietary requirements. Announcing two minutes before your wedding breakfast that you have a vegan and 3 gluten free guests is not overly helpful for your caterer.
3.Guest Lists
Keep a record of who you sent invites to and check them off as you receive your RSVPs. This makes it easy to chase those last few that always forget to respond. If you choose a menu that requires a pre-order, it is also the perfect way of logging guests choices and any special dietary requirements, making the task much more manageable.
 4. Table Plans
The dreaded table plan haunts the dreams of many brides as the wedding day approaches. Deciding who sits with who is a big enough headache. So don't add to your work load by creating elaborate pictures that your caterer then has to try and decipher. Sure post it notes and a big sheet of paper can be a great help when moving people around to see what works but once you've done that, pop it in a spreadsheet.
The following is simple but includes all the information your caterer needs…
Don't forget if your table plan changes, no matter how small, inform your caterer so they can adjust their plans. Also remember your caterer doesn't know the nicknames for your friends and family so stick to the name you will be putting on their place card.
5. Place Cards
There are so many different place card designs and styles. If you have a menu which involves a pre-order please make sure you symbolise your guests choices in some form whether that be a simple letter coding system, a picture of a cow for beef and a pig for pork, or a colour code.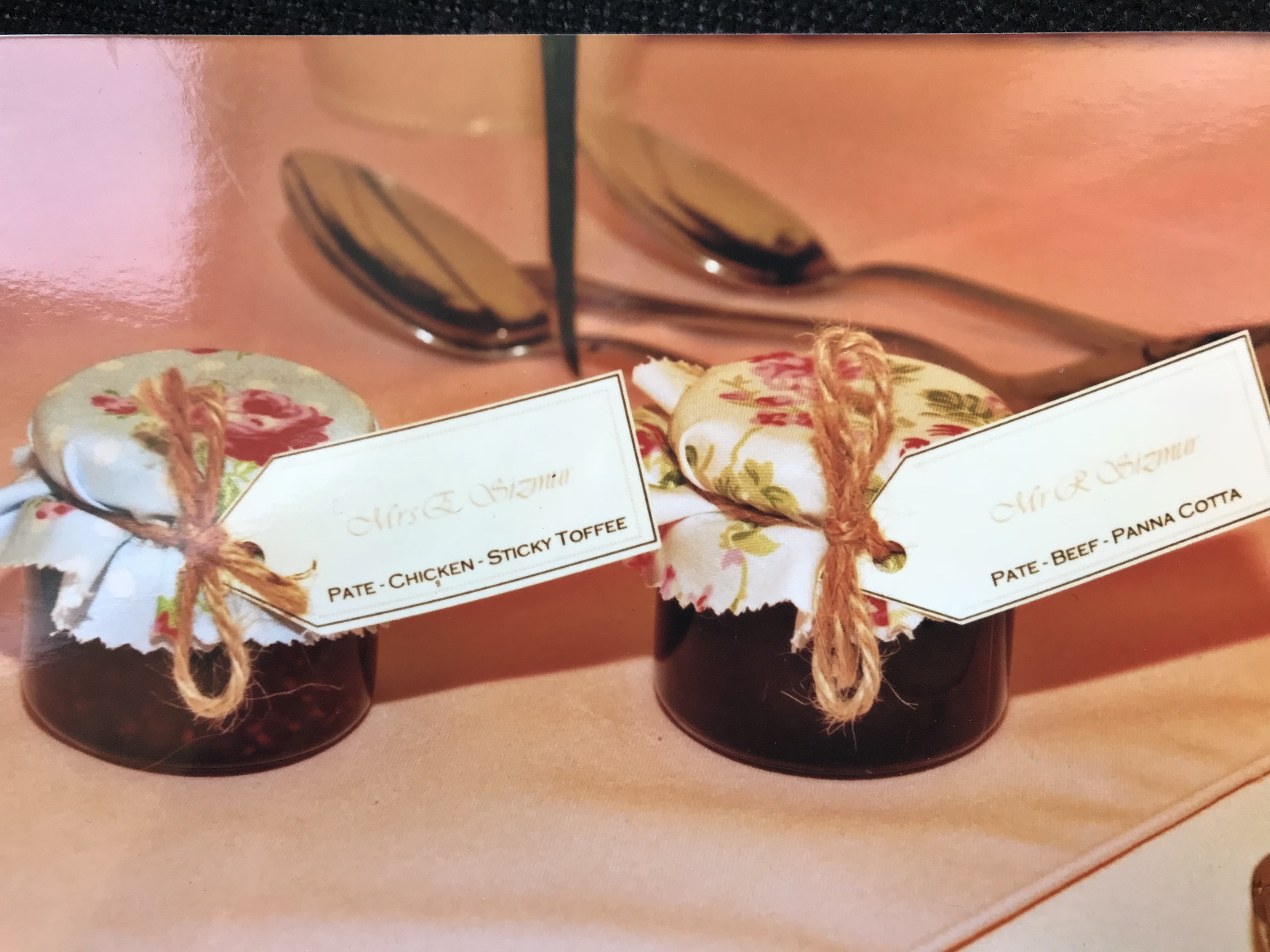 Yes there is much more admin with planning your wedding along with appointments, budgeting, idea seeking and keeping notes of it all, but hopefully we have helped a little.
If you would like us to cater for your wedding, corporate event  or party, please do get in touch